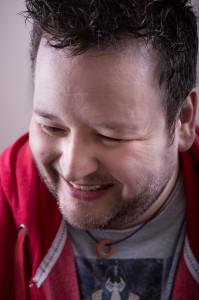 Bio: Steve's been writing from an early age, his first completed story was done in an English lesson. Unfortunately, after the teacher read it, he had to have a chat with the head of the year about the violent content and bad language. The follow up 'One boy and his frog' was less concerning to his teachers and got him an A.
It wasn't for another decade that he would start work on a full length novel that was publishable, the results of which was the action-packed Urban Fantasy, Crimes Against Magic.
He was born in a small village called Mexbrough, South Yorkshire, but now lives with his wife and three young daughters in Southampton.
Author links: Facebook / Twitter / Website

I always wanted to be a writer. When I was young, about 7 or 8, I would write little stories that I can't even remember anymore. I was about 10 when I wrote the opening chapter to a book that sounded so much like Terry Pratchett that the word plagiarism would have been too soft.
I knew I wanted to write, although I had no idea about doing it for a living, I just wanted to tell stories. I was probably about 13 or 14 when my English teacher, gave the class a creative writing assignment. Mine was something to do with a C.I.A operative trying to escape from assassins while he hid out in diner in the middle of the desert. It was, quite frankly, trash. But fun trash. Unfortunately, my teacher and head of department disagreed with my use of violence and swearing and I was told that I'd need to write something else before he'd submit it as work. Apparently, teachers don't like their students using swearing and violence in work. Who knew?
So, I wrote a story about a boy who finds a frog and took it home. He then had to keep it hidden from his mum, who eventually found it and he had to give it up. It was heart-wrenching and got me an A. It was probably also trash, but I was 13 years old, so to my mind it was a work of genius.
Anyway, that was point when I realised that actually I really, really liked writing. I wrote a few more things in English class over the years, although I can remember very few and then I went to college and stopped. I didn't write again, except the occasional opening chapter of something that never went further, for about 3 or 4 years. I always told myself, I had loads of time and that I'd get round to it, but I never did.
I liked the idea of writing a book, of being a writer, but I didn't know how to go about actually doing it. So, I just let the dream glow inside me while I did nothing about it.
My eldest daughter, Mim (that's not her real name, I just call her that. Mim's from the Sword in the Stone) was born 9 years ago, when I was 25. I decided to actually stop messing about with the idea of writing and actually write. I joined a writing group and over the following three years wrote my first book that will never be read by anyone.
After that, I had the bug and immediately set about starting my second book, which as it turned out would be my first published work, Hellequin Chronicles, Book 1. Crimes Against Magic.
It took me a lot less to get the book done, although I took nearly 2 years to try and get an agent and try to make it better and better, until I decided to just self-publish it. Then last year I self-published book 2, Born of Hatred. They both did pretty well, certainly well enough to interested 47North, Amazon's own SF, Fantasy and Horror imprint. Both books are now re-published and the third will be out next Feb.
It's an overwhelming feeling to have had success in something you love to do. There's really nothing quite like it. But I do regret having wasted so many years not working on my writing or not taking it seriously. So, if you have a dream that you'll 'get round to', don't wait, don't put it off, just do it. It could well be the best decision you ever make.
Crimes Against Magic: Hellequin Chronicles: Book 1

How do you keep the people you care about safe from enemies you can't remember?

Ten years ago, Nate Garrett awoke on a cold warehouse floor with no memory of his past—a gun, a sword, and a piece of paper with his name on it the only clues to his identity. Since then, he's discovered he's a powerful sorcerer and has used his magical abilities to become a successful thief for hire.

But those who stole his memories aren't done with him yet: when they cause a job to go bad and threaten a sixteen-year-old girl, Nate swears to protect her. With his enemies closing in and everyone he cares about now a target for their wrath, he must choose between the comfortable life he's built for himself and his elusive past.
As the barrier holding his memories captive begins to crumble, Nate moves between modern-day London and fifteenth-century France, forced to confront his forgotten life in the hope of stopping an enemy he can't remember.
Born of Hatred: Hellequin Chronicles: Book 2

There are some things even a centuries-old sorcerer hesitates to challenge…

When Nathan Garret's friend seeks his help investigating a bloody serial killer, the pattern of horrific crimes leads to a creature of pure malevolence, born of hatred and dark magic. Even with all his powers, Nate fears he may be overmatched. But when evil targets those he cares about and he is confronted by dire threats both old and new, Nate must reveal a secret from his recently remembered past to remind his enemies why they should fear him once more.

Born of Hatred, set in modern London with historical flashbacks to America's Old West, continues the dark urban fantasy of Crimes Against Magic, the acclaimed first book in the gritty and action-packed Hellequin Chronicles.
GIVEAWAY!
This is the first giveaway I've ever done and I'm really excited about it 🙂  To celebrate the re-release of Steve McHugh's Hellequin Chronicles novels, one lucky winner can choose to receive either a signed copy of Crimes Against Magic, or a signed copy of Born Of Hatred. Winners choice!
If you like this blog, please share and follow: