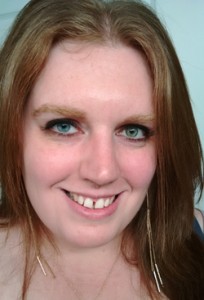 Natalie Westgate was born and raised in England. Her love of writing is matched only by her love of shoes.
At age 6, Natalie wrote her first "book": a children's story titled The Dog That Went Meow. She got bitten by the literary bug and has been writing stories and poems ever since.
She has an enjoyment and intrigue of all things unusual – as a child, when others would run away from haunted houses, Natalie would ask her Mom if they could go and stay in one. Luckily, her Mom was just as keen and Natalie's love of the paranormal grew.
Currently, Natalie is writing book one of an Urban Fantasy series. Watch this space!
She enjoys reading dark and urban fantasy, supernatural romance, horror, sci-fi and paranormal young adult genres. As well as getting immersed in the worlds of fictional supernatural TV series and movies – to Natalie, good writing isn't limited to books.
Natalie is married to Brian, the love of her life who, being American, just loves to point out her English spelling "mistakes". They live with their goofball dog, and sharp-and-pokey cat.
Recent Posts

Categories

Resources

Archives