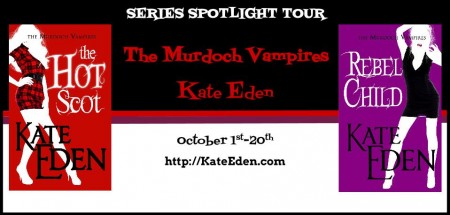 I'm very lucky to have been able to interview the amazing author Kate Eden, as part of her awesome blog tour for her Murdoch Vampires novels: The Hot Scot, and Rebel Child. Plus there's a blog tour giveaway of some very cool goodies! 🙂
Bio: Kate Eden comes from a long line of mouthy broads who love to read, so it's probably no surprise she caught the writing bug early. An avid romance fan since her early teens, Kate loves writing–and reading–stories about plucky heroines, sexy heros and the weird and wild journey people take on their way to love. She loves good food, cheap booze, and believes laughter is the cure for just about everything.

Author links: Facebook / Twitter / Website
INTERVIEW
Where do you do your writing?
Kate: I write wherever I can find strong coffee and a power supply. Mostly this happens in my office or at a café in my neighborhood. I give extra credit to places with delicious pastries with which to woo my muse.
What would be your ideal writing place?
Kate: On a veranda overlooking the ocean or a villa in Tuscany. Both settings would require a handsome manservant to bring me coffee and pastries.
What puts you in the writing mood?
Kate: New ideas get me going. They're so full of promise. But being a full-time writer means I don't always have the luxury of having to be in the mood first.
Do you feel more movtivated to write in the morning, or evening?
Kate: I am definitely not a morning person. Most of my best work happens around mid-day or at night. If my family didn't want to see me during the day, I'd probably be an all nighter writer.
What inspires you the most?
Kate: Oh man. That's tough. I find inspiration from so many places. Most writers do, I think. One great source is hanging out with my girl friends. There's something about laughter that really gets my creative engine revving.
Are you a plotter, or a pantser?
Kate: I am a puzzler. I find a plot beforehand too confining, so I let myself pants it for a while. Then after I get several scenes written that way I go back in and plot so I don't go off the rails too much.
Have you always written that way?
Kate: Nope. I started out as a plotter, but the more books I write, the more I'm confident in seeing what happens.
Do you play music when you write, or prefer silence?
Kate: I always listen to music when I write, but prefer silence or new agey nature sounds when I edit. When I'm writing, it's best to wear headphones because it helps me block everything else out but the music and the story.
Do you have any advice for budding authors?
Kate: First of all, let yourself be a novice for a while. Learning how to write well can take time. You have a lot of plates to spin as a writer, and it's best to tackle a couple at a time instead of trying to master the entire place setting from the word Go. I've written nine books, two novellas, and several short stories and I'm still learning so much with each book. Those early days are your apprenticeship, and it helps get you ready for being a pro. Don't rush through it.
Book #1 The Murdoch Vampires

The Hot Scot

Publisher: Self Published

Release Date: April 11, 2013

Type: Paranormal Romance

Logan Murdoch hates complications. All he wants to do is work in his lab and create products to help vampires blend into mortal society. But when his mother begs him to get her painting back from the museum, he discovers a very attractive complication in the form of curator Sydney Worth. She buys his lie that he's the descendant of the man in the three-hundred-year-old painting, but refuses to give it to him. What's worse? She's immune to his mind control.

Sydney couldn't believe her eyes when the spitting image of the Hot Scot walked into the museum. But her attraction to Logan Murdoch suffers a huge blow when he demands the painting. Losing the piece could threaten her job and she senses Logan is hiding something from her. But this vampire who hates complications and the ambitious curator with trust issues are about to learn the fine art of love.

Goodreads / Amazon / Barnes & Noble / Kobo / Smashwords / All Romance eBooks
Book #2 The Murdoch Vampires

Rebel Child

Publisher: Self Published

Release Date: April 11, 2013

Type: Paranormal Romance

Raven really doesn't see what all the fuss is about. All she did was kidnap a mortal and try to sabotage one of the most important developments in the history of the vampire race. For some reason, though, her father, who is the leader of the vampire race, is seriously pissed. He gives her an ultimatum: Spend 200 years in exile or submit to a last ditch crash-course in vampire etiquette.

As the poster boy for upstanding, modern vampires, Callum Murdoch stands for everything the rebellious Raven loathes. He's also the brother of the man Raven recently targeted. But this very odd couple is about to find out that opposites don't just attract—they smolder.

Goodreads / Amazon / Barnes & Noble / Kobo / Smashwords / All Romance eBooks
GIVEAWAY!
Kate Eden is giving away some very cool goodies: one basic Kindle, a $25 gift card to EdenFantasys.com, and a Kate Eden coffee mug! The Giveaway is for US/CAN residents only. Must be 18 to enter.
Blog Tour Dates:
10/1 – Delighted Reader
http://www.delightedreader.com
10/2 – Hesperia Loves Books (Guest Post – Play List )
http://www.hesperialovesbooks.com
10/3 – Riverina Romantics
http://riverinaromantics.blogspot.com
10/4 – Booked & Loaded
http://bookedandloaded.com
10/7 – MaMa Kitty (Guest Post)
http://mamakittyreviews.com
10/8 – Addicted to Heroines
http://www.addicted2heroines.com
10/9 – Musings and Ramblings (Interview)
http://judy-ree.blogspot.com
10/10 – Natalie Westgate (Interview)
http://nataliewestgate.com
10/10 – The Romanceaholic (Interview)
http://romanceaholic.com
10/11 – I Smell Sheep (Interview)
http://ismellsheep.com
10/14 – Short & Sweet Reviews (Spotlight)
http://shortandsweetreviews.blogspot.com
10/14 – Lilly Element (Spotlight)
http://www.lilyelement.blogspot.com
10/14 – Rantings of a Reading Addict (Spotlight)
http://www.rantingsofareadingaddict.com
10/15 – SheWolfReads (Guest Post)
http://shewolfreads.com
10/16 – Urban Girl Reader (Interview)
http://urbangirlreader.com
10/16 – Reading Between the Wines
http://www.readingbetweenthewinesbookclub.com
10/17 – Reading by the Book
http://readingbythebook.com
10/18 – I am Indeed
http://iam-indeed.com
10/20 – Bitten by Paranormal Romance
http://www.bittenbyparanormalromance.com