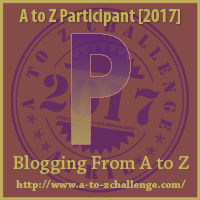 This month I'm taking part in the A-Z Challenge! Which means I'll be writing 26 posts (on set days through the month) each one corresponding to a letter of the alphabet. Today is day 16, which means letter P.
My theme for the month is: Secret Diary Of A Serial Killer. Each post will be a new chapter in the story – I'm really excited to finally get this novel idea out of my head and into words. I hope you enjoy it! 🙂
Previous Chapter: Oversight Start from A: Anna
Partner
"No," I said to Capinski.
I stood up and I started to usher him away.
"I'm her brother," said Johnny.
Capinski frowned at me. "You never mentioned a brother."
"We're estranged," said Johnny, standing up and extending his hand in greeting. "And you are?"
"Her partner," Capinski said, winking at me. He shook Johnny's hand.
"I'd ask you to join us, but we're kind of in the middle of something," said Johnny. "Family stuff, you know." He shrugged his shoulders, seeming relaxed but I could tell from his voice that he was the complete opposite.
"Of course." Capinski actually looked embarrassed. "I'm sorry," he said to me.
"I'll be right back," I said to Johnny, and walked Capinski out to the parking lot.
"You followed me?" I kept my voice low but I was beyond angry.
"You tried to ditch me," Capinski said.
I couldn't believe my ears. He was actually hurt that I left my car and took a cab; hurt that I was trying to not be followed by anyone.
"I like to keep family away from my normal life," I said, keeping up with Johnny's lie. Though it was partly true – I hadn't seen my real family in years.
"So he really is your brother?" Capinski said.
I nodded.
"If I looked in your file I'd see that you have a brother?"
I did have a very estranged brother, though it wasn't Johnny, but I suddenly realised how fragile Capinski was. He lost Carly and it drove him to murdering other women who looked like her. If he thought he was losing me I didn't know what he'd do.
I moved closer to him and put my on hand on his bicep, stroking gently. "Yes. But now I really do need to go and talk to him. I'll see you tomorrow morning as planned?"
He smiled. "Sure."
He leaned down and I gave him a brief kiss, wondering if the parking lot had cameras or if I could kill him right now.
"Tomorrow," he said, waving as he got to his car.
I nodded.
He reversed, then stopped and rolled down his window. "Don't be late," he said. His voice sounded strained.