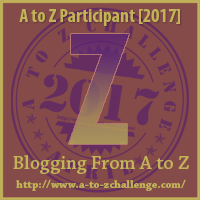 This month I'm taking part in the A-Z Challenge! Which means I'll be writing 26 posts (on set days through the month) each one corresponding to a letter of the alphabet. Today is day 26, which means letter Z – the end of the challenge!
My theme for the month is: Secret Diary Of A Serial Killer. Each post will be a new chapter in the story – I'm really excited to finally get this novel idea out of my head and into words. I hope you enjoy it! 🙂
Previous Chapter: Yearning Start from A: Anna
Zealous
The next morning I pulled into the Sunrise Diner parking lot, yawning. It had been a long night. I saw Johnny through the window, sitting at his usual corner booth. I turned off the ignition but stayed in my car for a while, watching him.
After everything he'd done the past few days I had no doubt he knew I was there. I was starting to doubt my double life was even a secret from him.
I chewed on my lip. It had been a long night with lots of questions from everyone, and I'd only managed to slip away on the pretense of needing to get food – which wasn't a complete lie.
The captain had been preparing to give a press conference when I left the station. There was no way I wanted to be around for that.
I yawned again then made my way to the diner.
Johnny smiled when he saw me, and nodded to a cup of coffee and a slice of apple pie he'd ordered for me.
I grinned. "I might need a second slice after the night I've had," I said, sitting across from him
He pushed his plate of pie towards me. "It's key lime."
Not my favourite, but it would do. I started eating his slice first, saving the best apple pie for last.
I was half way through his pie, pausing to drink some coffee, when he said, "So, are you going to keep me guessing? What happened?"
I finished the coffee and called to the waitress for some more. She gave me a pitiful smile before scowling at Johnny.
"It went pretty much like we planned," I said, eating another mouthful of pie.
"Pretty much?" He said, raising an eyebrow.
"Yeah. I had to improvise a little here and there," I said between mouthfuls.
He frowned at me. "But everything went ok? The police got statements from you both? The note arrived to the right place?"
"Yeah, well, mostly," I said. "The note was great," I added quickly. "Thank your guy for me please. He did an amazing job."
He smiled. "I'll tell him."
"And yeah, I gave my statement this morning," I said, yawning. "It was a long night."
The TV near the kitchen caught my attention as I heard Captain Hood's voice giving some details about the case.
Johnny looked up at the press conference.
"You didn't want to be there for that?" He said.
I shook my head. "No way. I prefer to keep a low profile. It makes my job easier if my face isn't plastered all over the news."
Captain Hood started talking about a missing detective, asking people to call in if they have any information.
"Smart of him to call Capinski a 'missing detective' at this stage," Johnny said.
I nodded, taking a bite of apple pie.
"A body was discovered this morning which we believe is from the same killer," Captain Hood said.
Johnny stared at the screen.
"We will release her identity after the family has been notified. But we have reason to believe he won't be killing anyone else," said Hood.
"Delaney," Johnny said, his gaze moving slowly from the TV to me.
I chewed the last piece of apple pie.
"Like I said, it was a long night." I grinned.
THE END
Thank you to everyone who has been reading along with me all month, and to everyone joining in later who has made it to the end of my crime/thriller! 🙂 I hope you all had as much fun reading it as I did writing it!
I had originally planned for Secret Diary Of A Serial Killer to be a one-off, stand alone novel/novella, but I've fallen in love with the characters so much I may write more Delaney Myers books. What do you think? 🙂
Congratulations to everyone who took part in the A to Z Challenge! And extra congratulations to everyone who made it through the whole alphabet with me – now we can sleep for a month lol!
If you like this blog, please share and follow: